Puppy Love Labradoodles
Our Labradoodles are located in Southern Alberta, Canada, just a short drive from Calgary. There are two of us here at Puppy Love. This enables us to have several dogs in our breeding program and still ensure that each one gets the love and attention they deserve. We raise our dogs in our homes where they are part of our busy families. We both have five kids each who help to love and train our dogs and socialize the puppies.
When we purchased our first Australian Labradoodle about 12 years ago, we were surprised to find that everything we had been told about this wonderful creature called the Labradoodle was true! They are friendly and fun loving, making them a wonderful family pet for children as well as adults. They are highly intelligent, easy to train and very intuitive, making them great for animal assisted therapy.
We have sold many puppies over the years for therapy purposes to families who have kids or adults with special needs and also for therapy use in health care or educational settings. They truly are amazing animals and they will have you wrapped around their little paws before you know it.
We breed only true Labradoodles or the Australian Multigenerational Labradoodles. We do not breed any early cross labradoodles or any labs to poodles as we have found that there is not enough consistency in temperament as well as coat. We like to be able to ensure that all of our puppies will have great personalities combined with fleece or silky soft coats that are allergy friendly.
Not all Labradoodles are Created Equal!
Our labradoodles are members of our families and have really enriched our lives. We want to bring them, a wonderful family pet and companion to your home. If you have allergies and have previously been unable to enjoy a dog for a pet, our puppies are the perfect choice for you. We only breed pure Australian Labradoodles. Because these are multi generational dogs, they have a much better, hypo allergenic, very little to non shedding coat. Most of the early crosses have a tendancy to shed. With multigenerational Labradoodles you get the benefit of may years of selective breeding by the breeders that started it all in Australia. In terms of Labradoodles, you really do get what you pay for!
We are not a kennel. Our Australian Labradoodle puppies are hand whelped in our home and spend the first 2-3 weeks of their lives in our Master Bedrooms where they and the moms feel the most safe and secure. At 3 weeks they move into the main living area of the house. From here they can see and hear just about everything that goes on in our homes on a day to day basis. Our children, who range in ages from toddler to young adult help to love and socialize the puppies until they are ready to be adopted and go home with you.
Puppies raised in this environment make the best pets because they have been given the best possible start. They will enjoy running with you, swimming with you, they are great at fetch, highly intelligent and easily trained. When you are all done playing, what the Labradoodle enjoys the most is a nice, warm cuddle with you!
Latest News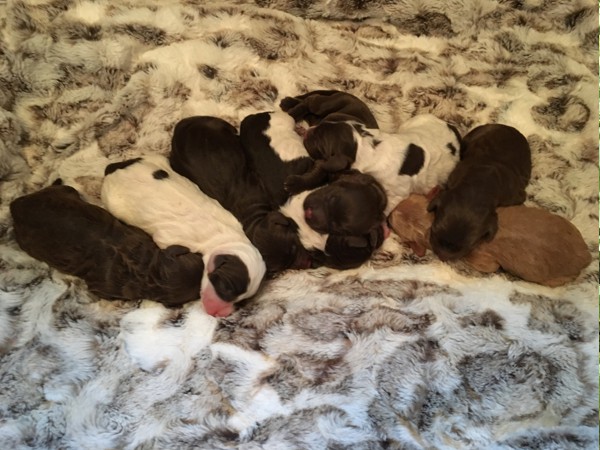 Summer is finally here and we have babies in the works. Contact us to reserve your spot!
Testimonials
Our experience with Puppy Love Labradoodles has been a very good one. Right from our first call from Darice asking us all kinds of questions about our home life so that she could decide if we were the right people to purchase one of their puppies.
We could not be happier with Darice and her family's professional and caring help. No questions have gone unanswered. We would not hesitate to buy another puppy from them. Jill & Colin Chadwick.
Read More...